Callaway Jaws Full Toe has a face shaped to give you spin from every lie, whether you're hitting from a bunker, fairway or the rough. High toe profile increases versatility and you can put this to use when you need to hit the ball high and stop the ball quickly. The whole club head has Jaws C grind grooves and a varied weight port system that helps you get a consistent trajectory with every shot. It's been common knowledge on tour for several years that you put a longer shaft on the wedges to get more spin when it's needed. These shafts are called "Spinners" and using a longer shaft not only adds more flexibility at the tip of the shaft but also makes the overall weight of the shaft lighter which results in a wedge with more spin, in contrast to having a "normal" steel shaft in the wedge that doesn't help to generate nearly as much spin.
Spin Machine, With the "Groove in groove" technology which is quite simply smaller grooves inside the normal grooves and a raw face that will rust over time in a stylish way, you can trust that this wedge will give you the spin and control needed in every situation.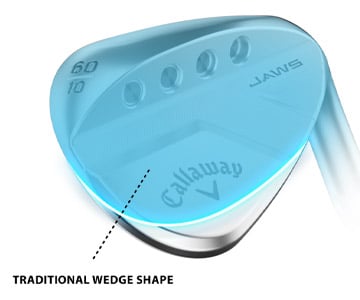 Confidence and versatility, The design of the full toe wedge instils confidence and allows you to hit a range of different shots on the course.