The Cobra Radspeed Xtreme driver has an aerodynamic design which makes it cut through the air for increased swing speed. For the Radspeed series, Cobra has pulled the weights further apart in the head, resulting in high ball speed and forgiveness. The Xtreme model has the weight placed deep to produce an optimally forgiving driver for consecutive and straight shots. The precision-milled Infinity Face gives you high COR even on off-centre shots. This produces high ball speed for long and consistent shots. The T-Bar construction allows for the carbon fibre crown to be divided into two sections that go from the crown to the sole to optimise the weight placement. This construction provides more resistance to twisting at contact which makes the driver stable. Cobra's MyFly adapter on the shaft allows you to adjust the loft/lie to eight different settings. Equipped with the Cobra Connect sensor in the grip, which measures and stores statistics from your game, which can then be analysed using a mobile app. The different colour combinations of the driver are supplied with the following shafts: Black/Orange - Mitsubishi Tensei AV Raw Orange 65. Blue/White/Gold - Fujikura Speeder Evolution VII. Red/White/Blue - HZRDUS Smoke RDX Blue PVD. White/Blue - HZRDUS Smoke Black RDX. White/Green - HZRDUS Smoke Green 60 Small Batch.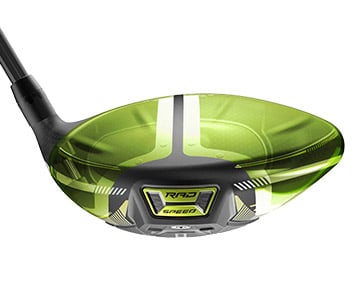 Carbon Crown , The crown has been divided into two parts which go all the way around the head and under the sole. This means that 6 grammes can be moved and placed lower in the head for a better launch angle compared to its predecessor Speedzone. The T-bar construction that holds the crown together is now lighter than before so the weights can be strategically positioned.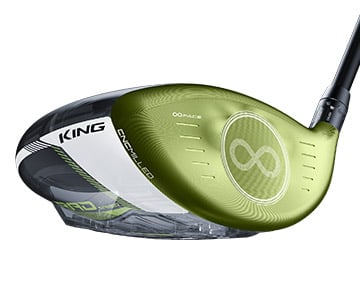 Infinity face, The face is precision milled to make it as hot as possible at impact. This was first seen in the Speedzone driver and goes out over the edges of the head. This allows the face to generate a high ball speed further away from the centre.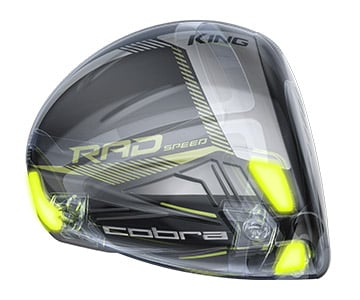 Radial Weighting , By moving the weights further away from each other than before, Cobra has produced a driver that delivers forgiveness with high ball speed. The weights located near the face reduce spin while the traditional weight far towards the back provides increased forgiveness.